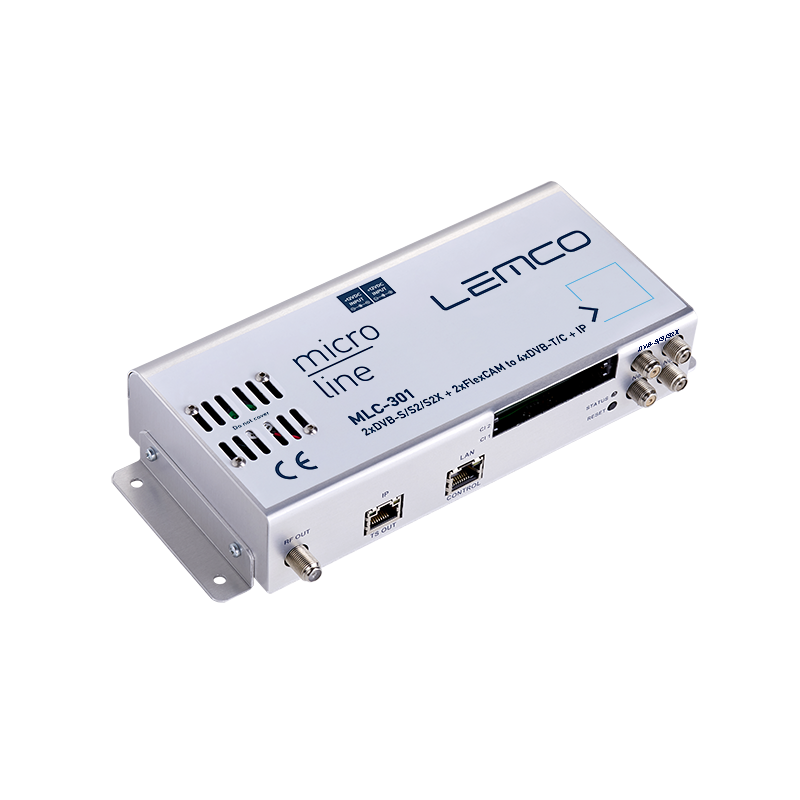 Description
The MLC-301 is a very powerful, all-in-one mini headend device, able to receive up to 2 independent satellite (DVB-S/S2/S2X) signals with 2x CI interfaces and convert them either in 4 x DVB-T/C RF output channels or in IPTV streaming using UDP/RTP protocols multicast/unicast. Moreover, the MLC-301 supports "multistream" satellite reception too. The FlexCAM technology provides the ability to the user to connect the CAMs either at the inputs or the outputs of the device.
It supports "pool" technology, meaning that the user is able to select any program from any of the 2 inputs and assign them to any of the 4 RF or IP outputs providing great flexibility.
The embedded web server of the MLC-301 provides a very friendly user interface as well as the ability of remote or local control of the device via LAN.
Its small size and its powerful features render the MLC-301 the ideal solution in case we want to distribute FTA (Free-To-Air) or scrambled TV programs coming from satellite (DVB-S/S2/S2X) sources to a CATV installation using the DVB-T/C or IPTV technology.
Features
2 x independent multi-standard inputs DVB-S/S2/S2X
2 x FlexCAM
4 x RF output DVB-T/C (software selectable)
"Multistream" reception support
Gbit IP streaming (up to 64 x SPTS / 4 x MPTS)
"Pool" technology
MER value > 42dB
PID filtering
Dual power supplies offering redundancy mode
Custom NIT/SDT
Local or remote control via webserver
Very friendly user interface
Wall or rack mount options
SNMP v2
Ultra-compact size
5-year warranty